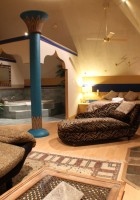 Set in the picturesque foothills of Springbrook National Park, Ecostudio Fellini captures an intimate atmosphere, creating the perfect setting for weddings on the Gold Coast.
Naturally providing a picture-perfect backdrop for couples celebrating their special day, Ecostudio Fellini's expansive five-acre grounds are fitted with a charming open-air chapel as well as an open, split-level deck venue – ideal for wedding ceremonies and receptions of any type.
For couples looking to make the most of their special day, private accommodation is also available on site, with four luxury-self contained lodges nestled in the property's scenic surrounds.
Utilising all natural building-materials to stay true to Ecostudio's environmental ethos, each lodge is of highest quality and comfort and are individually styled – from the alluring ambience of the Rose Lodge, inspired by romance and splendour, to an indulgent stay in the Pharaoh Lodge, a design replicated on the great pyramid Cheops.
Bridal parties have exclusive rights to the private accommodation available on the property, creating the perfect ending to a special day and the start of a romantic honeymoon away.