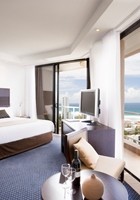 Crowne Plaza Open Day
Sunday 29th January 2017 10am -2pm
2807 Gold Coast Hwy Surfers paradise
Contact: Crowne Weddings Specialist 07 5592 9900
Email: weddings@crowneplazasurfersparadise.com.au
www.crowneplazasurfersparadise.com.au
Join the Crowne Plaza Surfers Paradise team for our Wedding Open Day on Sunday 29th January. Meet their experienced wedding specialist, view function rooms and ceremony locations set for weddings and wander the hotel grounds whilst enjoying complimentary sparkling wine and canapes. Complimentary car parking is offered and all early restaurant will go into the draw to win dinner for 2 in Four Winds 360′ Revolving Restaurant.
Crowne Plaza Surfers Paradise is situated just 200 metres from the beach and offers the perfect location for an elegant and stylish wedding.
Ceremonies can be held in the hotels on-site chapel or in the lush quiet tropical gardens. Specialising in intimate celebrations of 30 guests or grand receptions up to 320. There are a variety of reception venues available, most featuring large windows, adjoining balconies or stunning chandeliers.
The hotels experienced wedding coordinator will be your one point of contact.
Wedding packages start from $99.00 per person and included in all wedding packages is overnight accommodation with breakfast for the bride and groom. Special accommodation rates are also available for wedding guests.
Crowne Plaza Surfers Paradise has everything you need for that day in your life when detail and perfection means everything.