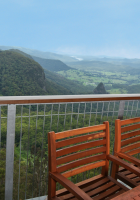 Contact owner
Binna Burra has accommodation to suit all budgets. From luxury Sky Lodge apartments to basic camping, we have something to suit everyone.
Sky Lodges are Binna Burra's luxury accommodation – spacious apartments offering a stylish contemporary alternative to Binna Burra's traditional lodges. Each offers generous balconies with breathtaking views, fully equipped self-contained cooking facilities, spa baths, fire places, flat screen TVs & wireless internet.
The Mountain Lodge provides accommodation for a limited number of guests in heritage-listed lodges with the original buildings built from hand-cut tallow wood slabs. Some of the cabins date back to when the Lodge was first established in the early 1930s.
Binna Burra Campsite accommodation is ideal for those on a tight budget. If you're a more outdoors-type couple and choose the Lamington Teahouse as the venue for your celebrations, your guests can be accommodated in our Safari tents.